Our team consists of highly qualified language teachers who teach on the model of trusted LLE curricula. At the same time we care not only about teaching you, but also about motivating you and conveying you some fun in learning a language.
All our teachers are either native speakers and/or language teachers by training with a university degree and an additional educational qualification.
Below we briefly introduce our team to you:
Iryna – holder and teacher for German: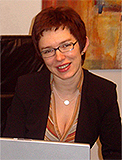 After her German studies at the University of Simferopol in the Ukraine, Iryna went to Seuzach in German-speaking Switzerland for half a year to complete an internship there. Goal of this internship was the widening of her language skills. Afterwards she attended a one-year advanced course in German language in Boeblingen, which she completed successfully with the "small German language certificate".
After her return to the Ukraine she got a job as a German language teacher and interpreter at the language school "Linguist-Centre" in Sevastopol, where she was employed for the next twelve years.
In 2005, she moved to Germany. Together with her husband she founded the au pair agency Friends for Families in 2006 and the education and school consultancy Learning in Britain in 2013. In 2015, the launch of the online language school LLE – Learn Languages Easily followed, to support young (and also a bit older) people from abroad in learning the German language. Iryna speaks German, Russian and Ukrainian fluently.
Lisa – teacher for German: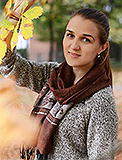 At first Lisa successfully completed her German studies at the Institute for Foreign Languages in Horlivka, Ukraine, which she brought off with a bachelor's degree in 2013. During her studies she became deputy chairwoman of the student council of her university. At the time of her studies she also completed some internships as a teacher for German, English and foreign literature at schools in Horlivka and Timoshevka.
In May and June 2012, Lisa was salaried at Donetsk International Airport within the frame of European Football Championship. Between July 2013 and July 2014 she completed a one-year au pair stay at a host family from Kiel and since September 2015, she studies sociology at the University of Hamburg.
Furthermore Lisa has passed several advanced trainings in the subject of German language and is equipped with an outstanding aptitude for teaching German as a foreign language and also all the necessary competencies for teaching Russian.
Inna - teacher for English: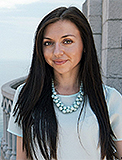 After her studies of philology at the University of Technology in Sewastopol, Ukraine, which she successfully completed with the bachelor's degree in 2010, Inna worked as an English teacher in adult education at the language school "Linguist-Centre" in Sevastopol between 2011 and 2015.
During that time she has gained several specialist certificates, among others the Certificate in Teaching English to Speakers of Other Languages (CELTA), the Certificate in English Language Teaching to Adults – Young Learner Extension and the Teaching Knowledge Test Module 1 to 3.
Since 2015, Inna's main job is English teacher at a private institution for children in Limassol, Cyprus. She is available on request and is able to arrange her tuition via Skype on different days and at different times of day.
Julia – teacher for English: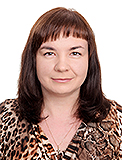 In 2006, Julia successfully completed her studies of philology at the University of Sloviansk, Ukraine, with the master's degree. Her focus areas during her studies were English language and world literature. In the same year she gained the Certificate in Advanced English (CAE) and in 2008 also the Certificate of Proficiency in English (CPE).
Julia teaches English since 13 years now, among others at the language school "Linguist-Centre" in Sevastopol, where she has a teaching assignment. During this time she has successfully fitted many students of all ages and language levels for their international language exams like FCE, CAE and IELTS.
Not least because of her experience Julia is an outstanding English teacher, who is skilled at teaching effectively as well as sportfully.
Julia II – teacher for English, Spanish and Russian: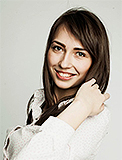 In 2012, Julia completed her studies on the field of translation at the Herzen State Pedagogical University of Russia in Saint Petersburg with perfect scores and a bachelor's degree of arts. Afterwards she was employed at "Unium" for three years, a national education institute with more than thousand staff members. In 2013, she was awarded "best English teacher" there.
During that time, Julia also worked as a translator on several occasions, among others at the G20 Saint Petersburg summit in September 2013, at the Sochi Winter Olympic Games in February 2014 and at the International Meeting of Library Associations and Institutions' Laboratory in June 2014.
Since September 2015, Julia's main job is English teacher at the language school "Linguist-Centre" in Sevastopol, where she teaches adults as well as children. Furthermore she also already looks back on two years of experience as a Spanish and Russian teacher via Skype.